When you go to Zhouzhuang from Suzhou, you can take the bus to Zhouzhuang bus station, then take a car to Zhouzhuang ancient town with the starting price, and the ticket for Zhouzhuang Water Town is 100 Yuan/person. After checking the ticket, you can enter and exit within three days, and you can stay at a Zhouzhuang's inn for a night. Zhouzhuang in the evening is very quiet. There are not so many tourists. It's good to have a night there to experience the life in the ancient town of Jiangnan. During the day, there are many tourists in the tour group. When you are there, you must taste the Shenwsanwan store's trotters, which is a bit sweet! You don't have to buy a ticket for the ancient town if you come there after 20:00 o'clock!
The sculling boat in the water lane is the most beautiful dream of the water town.
The Zhouzhuang ancient town is small in size, about one to two kilometers long and wide, and you can walk around the ancient town on foot. However, boating on the waterway is very recommended. The boat in the ancient town is a wooden boat covered with blue printed cloth. It can take six people at a time. The aunts who row the boat often sing some Kunqu, which is very popular in the water town.
Watching the Four Seasons Zhouzhuang to taste Zhouzhuang charm
"Four Seasons Zhouzhuang" is a live performance on the waters that expresses the charm of the life of the Jiangnan water town. It is divided into three chapters: "Shuiyun Zhouzhuang", "Four Seasons Zhouzhuang" and "Folklore Zhouzhuang". It is a wonderful visual feast that allows you to better understand the Zhouzhuang Water Town.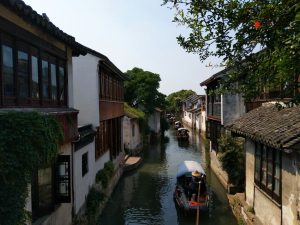 Zhouzhuang is a place that is very suitable for relaxation. In the morning, you can blow up the air by the river, eat some Jiangnan snacks, and you can walk in the town during the day, listen to drama and tastes the tea in the tea house, or go to the coffee shop to read a book and drink coffee. Go to the quiet Bar for a drink, and many bars have singers singing or performing there.