Zhenyuan Ancient Town is located in the far county of Zhouzhen, southeast of Guizhou Province. On the bank of Wuyang River, the river runs through the city in an "S" shape, forming a style which is similar to the Taiji figure, so it is also called the Bagua ancient town. Every summer, the surrounding tourists gather here lively, but it turns back normal after the summer ends.
Zhenyuan is an ancient city with a long history. It can be felt by listening to the name. This ancient city is now well connected with the new city, and people can't tell the difference. To play well in Zhenyuan, here are some tips:
1, Zhenyuan Ancient City is very close to Zhenyuan Railway Station. It is very convenient to take the No. 1 bus at the railway station stop.
2, In the town, you must live in the hotel near the river. It is the liveliest. When the lights on both sides of the river are lit up at night, the scenery is also the best. You can choose a good river view room to live in. It is very pleasant, of course, the price is good.
3, there are so many food worth tasting in Zhenyuan Ancient Town, especially in the summer, hotels near the river are filled with stalls tables, and there are full of people, although the vast majority of the tastes are tourist tastes, the atmosphere is warm.
4, Ancient bridges such as Zhusheng Bridge in Zhenyuan are really beautiful, whether it is during daytime or at night.
5, to take a panoramic view of the town, you need go to Qinglong Cave earlier.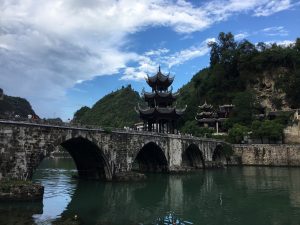 The Zhenyuan Ancient Town does not charge tickets and maintenance fees, so it is very free. When you first arrive in the town, you will be amazed by the border town. The mountains and rivers are worthy of the name. The ancient town is backed by Shiping Mountain. The Wuyang River divides the ancient city into two halves. On the left there are shops where you can buy some Miao specialties, and on the right side there is a long street. In short, there will be a lot of fun in Zhenyuan Ancient Town.