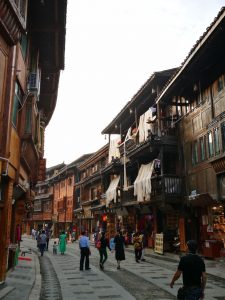 When you come to Xijiang Miao Village, tasting the long-table feast, drinking Miaojia wine, watching the Miao customs, and appreciating the cultural heritage have become a few of the major features here! And it is highly recommended to watch the performance of "Beautiful Xijiang" in the evening, which has highlighted the traditional customs and beautiful legends here! Although it is self-funded, it is still worthwhile in general, and it is much richer and amazing than the noon performance! Xijiang in the evening will have the lights shining here and there, and all kinds of bars are also competing to open, although it is a bit noisy, you cannot miss the fun if you like!
If you want to see the traditional stilted building, you need to climb to a high place. There are still many traditional wooden houses, but it is not convenient to find them! Xijiang Miao Village is really good, as the special night scenes are super beautiful, and thousands of lights are like stars. You can play with water, you can have a drink at the bar, you can wander in the street, you can go fishing, you can take photos etc., there are many items for you to play in the village.
It is worth visiting. After all, it is the largest Miao group living place in China and in the world. The architectural style retains the traditional style. Although it is now very commercialized, the tourism resources of Guizhou Province is really a potential industry. Overall, the scenery in the Xijiang Miao Village is beautiful and the people are simple and honest. You will feel good here. It is recommended to go to Miao Village for independent travel, and stay in the Miao Village. The night scene there cannot be missed. And you can visit the village in depth and watch the show at night!
Special Notes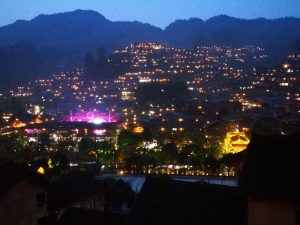 1, Xijiang Miao Village has no heat in summer, even in August, the evening is still cool, so you can bring a thin coat when you go to the viewing platform to see the night scene. 2. If you rent Miao costumes, there are two long horns on the female Miao dress headdress, be careful not to hurt people around you.