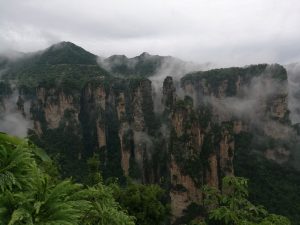 Zhangjiajie National Forest Park is divided into Huangshizhai, Jinbianxi, Yuanjiajie, Yangjiajie, Tianzishan and Suoxiyu. It is the core attraction for Zhangjiajie tour. Among them, Yuan Jiajie is the location of the "Hallelujah Mountain" in the movie "Avatar". The Ecstasy is an ideal viewing position, as you can see the first bridge in the world with a vertical height difference of 357 meters between the two mountains. Yangjiajie is mainly famous for the original scenery and natural beauty. The mountain road is narrow and is riksy. It is very popular among backpackers and explorers. Jinbianxi Gorge is the earliest development area in the scenic spot. It is one of the scenic spots of the classic version of Journey to the West. Fans can come here to see the classic scenes such as Huaguoshan, Shuilian Cave etc.
Official phone number of the Zhangjiajie National Forest Park: 0744-5712189
Time reference for visiting: 1 day
Transportation to the Zhangjiajie National Forest Park:
1, Automobile: you can take the automobile at the motor station, which is located at the intersection of Zhangjiajie City, Huilong Road and Renmin Road. There are many shifts sent directly to the National Forest Park every day. The journey is about 32km, the fare is 11 yuan, , and you can reach the Zhangjiajie National Forest Park in about 40 minutes.
2, Taxi: you can take the taxi from the airport directly to the scenic spot, the price is about 100 yuan; if you take taxi from the train station to the scenic spot, it is about 60-100 yuan.
Tickets:
Tickets: 248 RMB / person; discount ticket: 163 RMB (from Monday to Sunday during March 1st – November 30th)
Ordinary ticket: 136 RMB (from Monday to Sunday during December 1st – February 28th of the following year)
Half-ticket: with the winter off-season promotion policy, the ticket for the core scenic spots in Zhangjiajie is implemented by half-ticket system.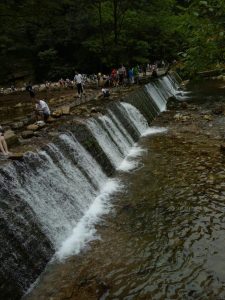 Free of charge: Children under 1.3 meters and senior citizens over the age of 70 years old can enter the park free of charge with valid documents, but must purchase 68 yuan of environmentally friendly car tickets.
Opening hours: 08:00-17:00 (from Monday to Sunday during January 1st – December 31st)