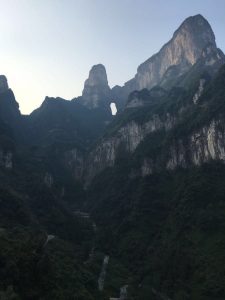 Tianmen Mountain in Zhangjiajie is particularly spectacular. Taking the car on the winding Highway is also very exciting. The glass plank road is not wide enough, and it is on the mountainside, so it is not very scary. If extends outside a little, it might be better. If you go on the mountain in the morning, it will be very fogy, and the bottom of the plank road can't be seen in the end. The cableway is very long, walking through the fog, watching from the mountains, you will feel the mountains are stacked, and your mood will be very good.
It is still easier and more comfortable if you choose the A ticket, as you will go up the mountain by taking the ropeway, which will help you save time and Physical strength. You just need to play the Western Line, as the East Line is not funny, the route is the longest, and you will feel very tired! The west line will require you line up for the glass plank road for a long time, as it is too many people! Most tour guides basically lead you to play the west line! Individuals need line up to buy tickets, and some people line up at three o'clock! It's okay lining up at four o'clock, and it starts selling tickets at five o'clock! About 300 tickets for each time period are reserved! The special ticket for online booking can only get the tickets for entering the mountain after the 11:00 o'clock!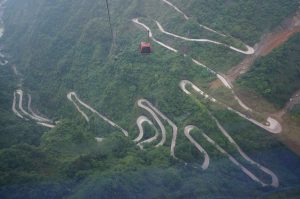 It's worth going to visit the Tianmen Mountain, and you can see the clouds, it's beautiful, but if it's too early, it's all white clouds. The most beautiful moment there is when the sun comes out on the top of the mountain. If you go in August, you don't have to wait in line. First, take the Western Line, go to the Tianmen Temple and then take the East Line. Wander around the top of the mountain and experience walking the glass path. When the East Line is taken, the sun just comes out, it is so beautiful! You will finish the tour at around 13:00 o'clock. There is only a restaurant in the mountain in the Tianmen Temple, there are buns, hamburger, hot dog optional for you to have lunch there.