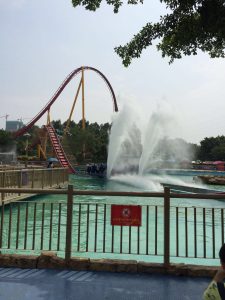 Guangzhou ChimeLong Tourist Resort includes five scenic spots: ChimeLong Happy World, Water Park, Wildlife World, International Circus Grand Theatre and Bird Park. Chimelong Happy World is a large-scale playground with many recreational activities. The most famous one is the vertical roller coaster, which is thrilling. The Chimelong Bird Park can be intimate with tens of thousands of rare birds such as red-crowned cranes, flamingos and black swan, and you can enjoy the large-scale bird show. The Chimelong Wildlife World is a relatively large-scale wildlife park in the country, with 500 rare animals and wonderful elephant performances.
Official phone number of the ChimeLong Tourist Resort: 4008830083
Time needed for visiting: 1 day
How to go to the ChimeLong Tourist Resort:
Subway: Take Metro Line 3 to Hanxi ChimeLong Station and take Exit E. Take the free shuttle bus to the parks.
Free Shuttle Bus from Chimelong Tourist Resort: ChimeLong Metro Plaza – ChimeLong Animal World South Gate – ChimeLong International Circus (ChimeLong Happy World North Gate) – ChimeLong Waterpark East Gate (Summer Open) – ChimeLong Hotel – ChimeLong Wildlife World South Gate
Tickets:
Chimelong Happy World: full ticket 250 RMB/children's ticket/ elderly ticket 175 RMB;
ChimeLong Wildlife World: full ticket (weekday) 250 RMB; full ticket (specific day) 300 RMB; child ticket/elderly ticket (weekday) 175 RMB; Children's ticket / elderly ticket (specific day) 210 RMB;
ChimeLong Water Park: Full ticket (April 1 to June 30, September 1 to October 7) 200 RMB; full ticket (July 1 until August 31) 280 RMB; night ticket/child ticket/elderly ticket (April 1 to June 30, September 1 to October 7) 140 RMB; night ticket child ticket/elderly ticket (July 1 to August 31) 195 RMB;
ChimeLong International Circus: Full ticket 350 RMB; Specific day full ticket 450 RMB; VIP ticket price 200 RMB;
ChimeLong Bird Park: 100 yuan per person; child ticket / Senior ticket 70 RMB (January 1st – December 31st Monday – Sunday)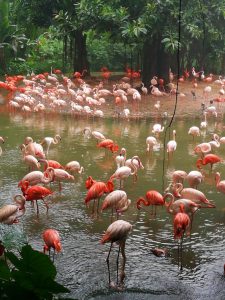 Opening hours
09:30-19:00 (ChimeLong Happy World), 09:30-18:00 (Flying Bird Park), 19:30-20:50 (ChimeLong International Circus Grand Theatre) (Monday-Sunday from January 1st to December 31st)
09:30-18:00 (ChimeLong Wildlife World) (Monday-Friday from January 1st – December 31st) 09:30-18:30 (ChimeLong Wildlife World) (Saturday – Sunday from January 1st – December 31st)