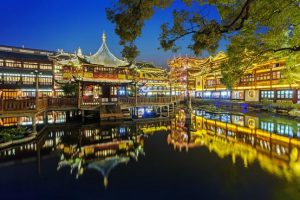 For the gardens of southern Changjiang delta, in addition to the Humble Administrator's Garden, most of them are private gardens of bureaucrats. The Yu Garden is also one of the famous gardens and the most prosperous place in Shanghai. Compared with the Suzhou gardens, the architectural form is more magnificent in the subtleties. The shape of the eaves is like a dragon in the sky. The metaphor of flying in time is too domineering.
The Yu Garden is small, but the interior is exquisite. There are many pavilions, rockeries and rafting lakes in Jiangnan Gardens. Most visitors' personal feeling is more comfortable than Suzhou's Lingering Garden. The official introduction of the Yu Garden is characterized by exquisite design, exquisite layout, clear and beautiful scenery, with the characteristics of seeing the big world through small one. The most famous attractions of the Yu Garden are Yu Lingling, which is a relic of the Song Huizong, and has a history of more than a thousand years.
Strolling in the Yu Garden, feeling the waterside pavilion, you will feel that the 30 Yuan ticket is still quite conscient, although many leaves are dying, there are still a few winter plums not afraid of the cold, competing to open. The ancient trees in the Yu Garden is also a major feature, there are towering white pines which are more than 300 years old, the trunk branches are so large that they cover the entire sky in the garden; the overall Jiangnan architectural style highlights the atmosphere in some small details: the fine sculpture on the eaves, the dragon body design on the wall, and the root carvings of the wooden chairs in the hall, all are highlighting the atmosphere of the big family. And a dragon smashed the wall, and the root carvings are unrecognizably beautiful. After the arrival at Yu Garden, you will find that the exquisite design of Jiangnan garden architecture is definitely worth visiting.
The Yu Garden is actually adjacent to the Chenghuang Temple. Therefore, if you have time after visiting the Chenghuang Temple, you can turn around to visit the Yu Garden. Although the two names are not equal, in most visitors' opinion, the Yu Garden is worthier of consideration. It is a rare place which is quiet in the downtown area.