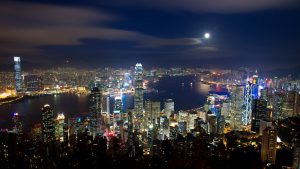 When you take a visit to the Victoria Peak in Hong Kong, taking the cable car is indeed a very different experience, although it is necessary to line up, the angle of view is really wonderful. When you arrive at the top of the mountain and overlook Hong Kong, you will feel very happy.
The night view of Hong Kong is really beautiful. It must be seen on the 428 viewing platform. It is the 428 observation deck that has been followed by the stairs after you get off the cable car. The 428 viewing platform is not disappointing. Looking down on the most prosperous center in Hong Kong, it is worthwhile to think that queuing up for it for a long time is worthwhile. It is recommended that the friends who do not hurry and want to watch the night scene to go up the mountain after 20:30p.m. in the evening! To look at the night scene, you must bring a thin coat with long sleeves. The wind on the top of the mountain is very big. If you go after October, you should pay attention to keep warm.
If you are physically fit, you can choose to climb up. Most tourists choose to go up the mountain by taking the cable car, so there are very few people on the trail. The intensity of mountaineering is very low, and it is almost half an hour away. The little train is not recommended to sit, you can take the bus. The scenery on the mountain is good, you can go to dinner at night there, and then watch the sunset and the night scene. The queue is very long when you go up the mountain, but it moves very fast.
To be honest, although the Victoria Peak is not high, the slope is very steep, and there are several places that even if standing or sitting in the same place you still have a feeling of backwards, and the road to the top of the mountain is not as good as expected.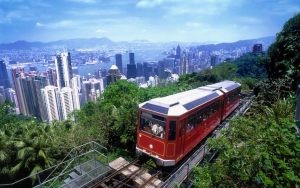 Ascending to the top of the Victoria Peak and overlooking the bustling city of Hong Kong, you will feel the mountains and the sea are horizontal and vertical, and the buildings stand tall. In addition, you will feel that Hong Kong's tallest building, the International Trade Plaza and the International Finance Centre are within easy reach.