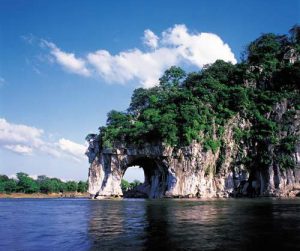 The Elephant Trunk Hill is located at the junction of the Li River and the Taohua River, the surrounding waters are not wide but very green and clear. The mountains and the waters reflect each other, just like a beautiful picture. There are many fishermen and vendors on the riverside, and there are rows of bamboo rafts next to them. They mainly carry tourists to visit the river.
Arriving at the first viewing platform, you will see there are too many tourists. If you want to take a panoramic view, there are a bunch of people taking photos, the background has to focus on.
Xiangshan Park is actually not big, tourists are coming for the symbol of Guilin, the Elephant Trunk Hill.
The government of Guilin is also well-intentioned. It has planted a row of big trees on the roadside. If tourists want to take pictures, they can't see the Elephant Trunk Hill on the periphery. They can only buy tickets to enter into the park.
Tips:
Best travel time: all seasons. Guilin has a subtropical monsoon climate with mild climate, abundant rainfall, abundant sunshine, obvious four seasons, without cold in winter and heat in summer.
Early morning – elephant trunk hill under misty rain
The Li River under misty rain can be said to be a representative scene of the landscape of Guilin, and it should fully reflect the misty and rain of Li River. When the Elephant Trunk Hill appears in the rain and misty in the spring, and the wide river surface gives you a different experience.
Night – "elephant trunk hill udakacandra"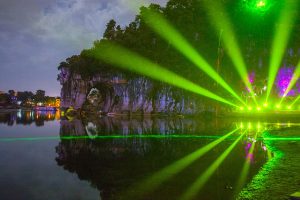 The night view of elephant trunk hill udakacandra is very good, and friends who love photography must not miss it. You can take the angle of photography when you take a boat trip to Li River. The tour time is usually one and a half hours. elephant trunk hill's lighting system turns on the lights on time every day, and the elephants are adorned with gorgeous lights. After that, the fisherman show is performed. The fishermen held a bamboo pole with a string of lights and make a stroke around elephant trunk hill. If they could could get some more light on the raft, that will be very different. There is also a laser show that is said to have invested 160 million. And show effect is awesome.