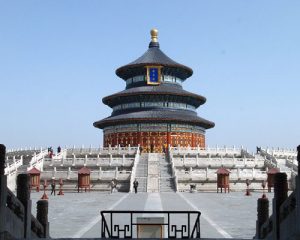 Going to the Temple of Heaven attractions, it is recommended to buy a joint ticket, which is about 30RMB/person. You can enter into the attraction from the east gate, then you will pass through a promenade. The first one to visit is the Hall of Prayer, it is so spectacular and beautiful! And it is suitable for taking pictures when there are not so many people there. There is a staff member who can explain it free of charge for every 20 minutes in the temple, but in the same way as the Forbidden City, the temple cannot be entered, and you can only watch and listen to the explanation outside.
Then visit the Imperial Heavenly Vault, which features the circular wall, and the wall is covered with Shandong Linqing brick, and the blue glazed tile roof, and it is a famous "Echo Wall". It is said that as long as two people stand in the east and west respectively, standing against the wall, then one person speaks to the north by the wall, and the sound waves will continuously refract along the wall and pass to the other end of the one or two hundred meters far way, regardless of how small the voice is, the other one can hear clearly, and the sound is long and interesting, which creates a mysterious atmosphere of " heaven-human induction ".
Finally, you will visit the Circular Mound Altar. The Circular Mound Altar is the mugwort leaf green stone top, with the white marble column, and the three-layered altar. Each floor has four terraces with nine steps on each terrace.
Tips:
The Temple of Heaven only needs to walk through the central axis.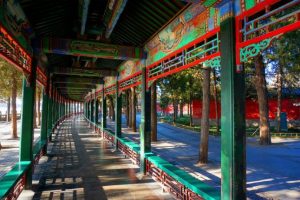 All the sights are magnificent, and any corner is perfect for taking pictures! The Temple of Heaven, made a lot of visitors very surprised and very fond of it! The main reason is that there are not many people there and the buildings are gorgeous! The perspective varies from high to low, and the green tile and the red wall is really beautiful! It is really worthy your visit.