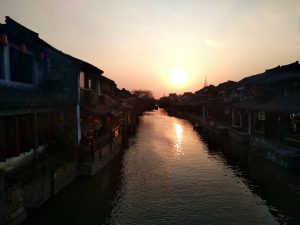 When you have a travel to Xitang Ancient Town, you won't feel down, as it is a place worthy going. Xitang in the morning and Xitang in the evening has completely different scenes. The bar street is full of excitement, and the food street is full of people, which is quiet and bustling at the same time.
The most beautiful Xitang is in the evening. When the night of Xitang comes, the beautifully decorated bars of various colors will definitely make you shine, and you will enjoy the dreamy lights and the music of the world. The ancient town is like the poetry and painting, and it is filled with the bar culture, to achieve the combination of dynamic and static feel, and to show the Xitang charms completely. This feeling is not owned by all the bars, just because it belongs to Xitang only. Some people may say that the bar is too noisy, too confusing, too exaggerated; but the Xitang bar also has the place where you can listen to the song quietly, you can also go on stage to sing if you are interested.
Standing on both sides of the stone bridge, you will like the swaying boats shuttling in the Ancient Town. There are a lot of alleys, porch, inns, where the folk customs are simple, the market is bustling, the special snacks have different flavors. Here, there are not many duplicate shops, each has its own characteristics, you can slowly stroll and slowly experience such pleasant "slow life" time. The beauty of the water town in the dream lies in the lightness of the wind, the arbitrariness, the solitude, and the unusualness. The beauty of Xitang is reflected in the water. No matter where you are in Xitang, as long as you see the lake water on the river, the lights on both sides of the river are so bright that shows the ink paintings, which are so vivid.
Don't forget to make your trip to Xitang Ancient Town if you also like appreciating the charm of the water town. It is worthy your visit.