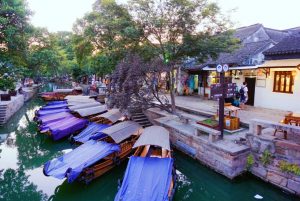 Tongli is one of the six ancient towns in the south of the Yangtze River with more than 1,000 years of history. The town has a well – developed river system and every house are along the river. It features exquisite garden architecture, quaint stone bridges and criss-crossing roadways. When you are walking in the Tongli Ancient Town, you will feel like passing across a thousand years, and you should slow down and taste the charm there quietly.
Suggestion: Stay for one night and play for two days in Tongli Ancient Town. There is convenient transportation, after arriving at Suzhou Station, you can take the subway line 4 directly to the terminal station – Tongli. After you get off the station, there will be buses and taxis to go to the Tongli ancient town. Tickets are recommended to be purchased online in advance, which will help you save 20 yuan. When the ticket is picked up, you need display the ID card for the staff to stamp. You can play for 2 days.
The Tongli ancient town is not big, and it takes only an hour or two hours to visit around. A lot of people prefer the beautiful scenery of the bridge, the waterside, and the trails. Unexpectedly, there is a Catholic church in such an ancient town.
The Tongli Ancient Town is located in Wujiang, Suzhou. It is surrounded by lakes. The networked river divides the town into seven islands. Almost every family in the ancient town is adjacent to the water. There are many narrow alleys and old buildings which were built in the Ming and Qing Dynasties. There are not many tourists, and there is a feeling of quietness and peace. At night, the lights illuminate along the eaves, which makes the town much more beautiful.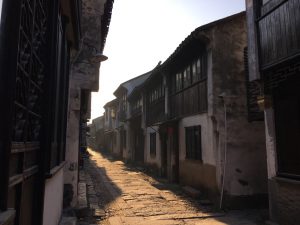 The Tongli ancient town is similar to most ancient towns, the degree of commercialization is also okay, the price is not expensive, the night is quite lively. You can walk around, feel the slow life. In general, Tongli is a historical and cultural town, where you will feel attractions here and there.