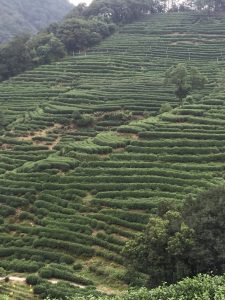 Meijiawu is located on both sides of Meiling Road in the western hinterland of West Lake Scenic Area. It is nearly 10 kilometers away from Hangzhou City and is one of the main production areas of Longjing Tea. Surrounded by green hills, the village is full of lush tea trees, and the fragrance of tea is refreshing. It's great to take a walk here and breathe in the fresh air.
Nowadays, the villagers of Meijiawu almost make a living by planting tea and selling tea. There are tea houses and many farmhouses everywhere in the village. Because it is not far from the urban area of Hangzhou, there are many tourists around the weekend who invite friends to come here. You can buy the pure Longjing tea and eat the local farmer's food. You can also play the mahjong there, which is quite comfortable.
If you come to Meijiawu in March and April, you will see the tea farmers busy in the field. This is the time to collect new tea. You can also experience the process of tea picking and tea making. If you come there in April and May, you can taste the new Longjing tea, especially before and after the Qingming holiday, when there are always many tourists from Jiangsu, Zhejiang and Shanghai. In fact, to avoid the crowds of the holidays, it is a wise choice to enjoy this quiet scenic spot.
In addition to the good Longjing tea, Meijiawu also has a cultural landscape such as Li Gengtang. Li Gengtang is an ancient house in the Ming and Qing Dynasties in the village. The word "Li Geng Tang" is the inscription of Zhang Zhao, the calligrapher of Yueyang Tower's "Yueyang Tower". Today it is also a quaint tea house and restaurant. If you want to climb a mountain, you can also go to the "Yunqi Bamboo Trail", the location of "Crouching Tiger, Hidden Dragon" from the small road on the east side of the southern end of Meijiawu, and you can enjoy the beautiful scenery of the West Lake.