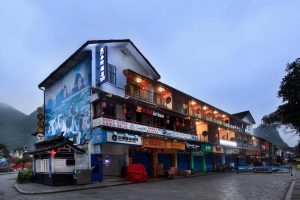 West Street is the most historic street in Yangshuo. It is adjacent to the Li River in the east, directly to the Dongling, west to the GaoZe peak, next to the Bilian Peak, and it is about 8 meters wide and 800 meters long. It is paved with local betel nut marble, which is dark green and bright color. Both sides are the low brick and tile houses left in the Qing Dynasty. The whitewashed walls and red windows, reveal the simplicity and elegance of southern china architecture. West Street is also a famous food street where you can enjoy local delicacies from Guilin and Yangshuo.
The West Street is a street that must be visited in Yangshuo Ancient Town, and it is also the liveliest place in Yangshuo. It's dominated by bars, and it's very bustling at night. Many young people like this kind of atmosphere.
West Street is a must-see attraction for your Guilin tour. It is free. It feels like Lijiang in Yunnan. There are many bars and it is very lively. Young men and women are indulgently sing loudly and jump. Even though the night is getting deeper and deeper, the crowd is not dissipated.
Precautions:
1, there are a lot of people at night in West Street, do pay attention to thieves, etc.;
2, there are so many tourists in West Street at night in the peak season and it is very noisy, it is recommended to visit West Street during the day;
3, there are many bars, be cautious in case being cheated when you are there by yourself.
Traffic:
1, Yangshuo Bus Terminal to West Street: take a taxi or walk, with the starting price.
2, Xingping Ancient Town to West Street: Xingping Ancient Town has the bus to West Street, which will stop departing at 18:00 o'clock in the evening, and pay attention to the bus return time if you go to Xingping Ancient Town during the day.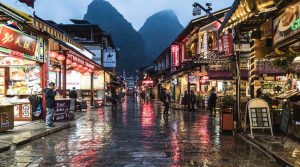 3, Yangshuo high-speed rail station to the West Street: take a taxi for 33 km and 50 minutes or take the special railway line bus, with 20 yuan a person, and the earliest one starts from 08:50 a.m., the latest one ends at 21:00;
4, Guilin City to West Street: take the shuttle bus at South Station or the terminus, which is about 25 yuan/person, with 80 minutes' drive.
5, The airport to the West Street: there is shuttle bus directly to the Yangshuo South Bus Station, the earliest one starts from 9:30 a.m., the latest one ends at 20:00, and the fare is 50 yuan, and it is 82 kilometers with about 1 hour and 10 minutes' drive.