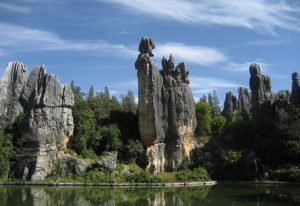 In addition to the attractions in downtown Kunming, there are Stone Forest and Jiuxiang that are worthy your visit during your Yunnan Tour. There is an old saying in Yunnan that "viewing the Stone Forest on the ground and Jiuxiang in the underground." When you come to Kunming, you are highly recommended to have a visit of the stone forest of the Kassite landscape in Yunnan, which is often mentioned in geography. In addition, it is the Karong Cave Museum in Jiuxiang. The various forms of stalactites are accompanied by light, to make it very beautiful.
The Stone Forest is located in Shilin Yi Autonomous County, Kunming City, Yunnan Province, with an area of 350 square kilometers. It is rich in scenery and rich in customs. Stone Forest is the hometown of Ashima.
The Stone Forest has the longest history of karst landforms, the widest distribution area, complete types and unique forms of Paleozoic karst landform communities. It is known as "the first spectacle in the world". You will be very happy to see the Bai nationality brother, sister, grandmother and grandfather dancing. It takes about two or three hours to play in The Stone Forest.
The beautiful Ashima and the handsome guys in The Stone Forest sing and dance. After enjoying the fun, you will take the battery car in the scenic area and go around to look at the undeveloped wild stone forest and taste some Bai nationality cuisine.
The small stone forest is the world-famous Ashima scenic area. The wide and thick stone wall is like a screen, which divides the small stone forest into several gardens. The most famous scenic spot in the small stone forest is "Ashima". When the night falls, the lanterns are reflected, and it is colorful and charming.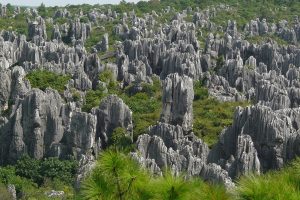 Tickets are 175 Yuan and battery cars cost 25 Yuan. Small details that you need to pay attention to when having a visit to the Stone Forest:
1, You must rend the battery car, otherwise it will be very tired to during the whole process of visiting the Stone Forest there.
2: When you meet the thunderstorm weather, do remember not to hide from the rain under the stone.