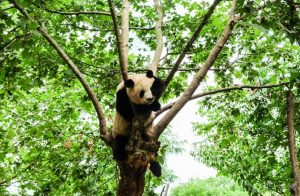 The Chengdu Research Base of Giant Panda Breeding is in the suburbs. There are many people if you arrive there late, and the working day is no exception. There are many foreign friends who come to see the pandas. It is recommended to book the tickets online to avoid wasting time on queuing at the scene to buy tickets. You can take the subway to the Panda Avenue Station or the Zoo Station, and then transfer to the Panda Base Gate. It is recommended not to wait for the scenic spot direct bus, as first scenic spot direct bus starts at 8:30 o'clock in the morning, but the panda base will open at 8:00 o'clock. It will be earlier in the summer and there will be a lot of people if you go there late.
After entering into the Chengdu Research Base of Giant Panda Breeding, according to the online travel guide, you can buy a scenic sightseeing bus ticket, which is 10 yuan a person, you can go back and forth, and get off at any stop. It is recommended to take the bus directly to the moon delivery room and walk from top to bottom to save energy. You can then see the Young Giant Panda Villa, Villa No. 2, Sun Delivery Room, Villa No. 1. You can see the famous panda "Meilan" and "Fushun". From June to August in the panda production period, you can also see the pink panda cubs. It takes about 3-4 hours to visit the Panda Base. If you take a sightseeing bus, it will take about 2.5 hours.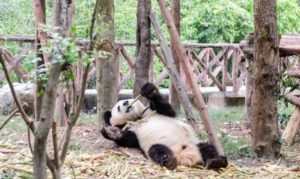 Best time to arrive at Chengdu Research Base of Giant Panda Breeding: 7:30-18:00, and during 9:00-11:00 in the morning, there is feeding section for the pandas, which is the most frequent time period for panda activities, they will come out to climb the tree and play with each other. So, this time is also the time when there are the most tour group. At 11:00 o'clock, the pandas will want to sleep, and the activity will be reduced. It will be difficult to see their thick and lovely appearance after 11:00 o'clock in the morning.
So, keep in mind to arrive there earlier so as to enjoy your trip in Chengdu Research Base of Giant Panda Breeding.