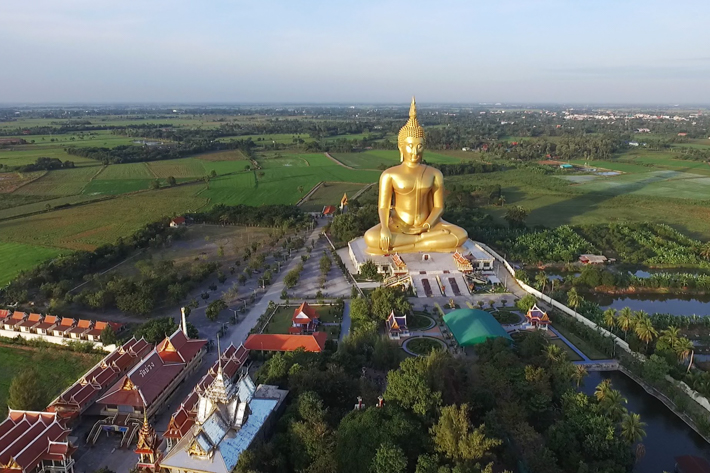 Wat Muang is located in Ang Thong, north of Ayutthaya. Although it is not as famous as Ayutthaya, some self-driving travelers will often come here for a visit before going to Ayutthaya.
Wat Muang covers a very wide area and is divided into several areas. There are not only temples that are surrounded by pink lotus flowers, but also museums that carry the past and present. The biggest highlight here is definitely the tallest Buddha statue in Thailand, which ranks ninth in the list of the largest Buddha statues in the world.
Phra Buddha Maha Nawamin
According to data records, this super-large Buddha statue is about 92 meters in height and 63 meters in width. It was completed as early as the early 1990s. The workmanship of this Buddha statue is very delicate, and every detail is handled very well. Even if you walk under the Buddha statue and take a closer look, it will not feel rough. This Buddha statue is the landmark of Ang Thong.
Mirror Temple
There is also an exquisite Mirror Temple in Wat Muang. The silver Buddha hall in the temple really shines. The interior of the hall is decorated with mirrored glass, which makes the entire space look much larger than it actually is. When the sun shines directly on the glass in the hall through the windows, it is the most beautiful moment in this temple.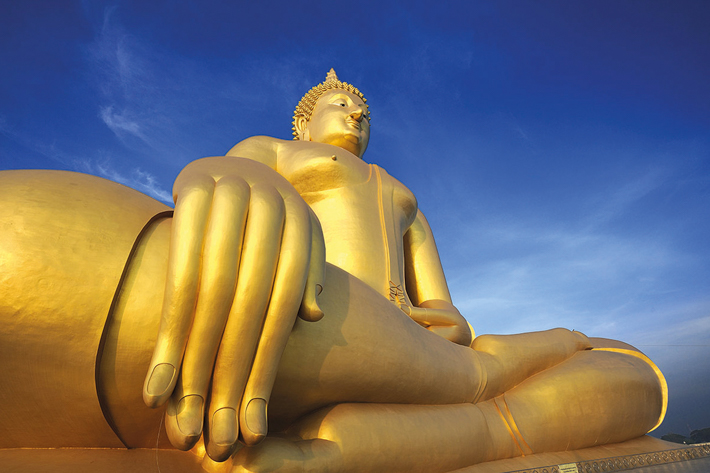 The mirror glass reflects the sunlight, showing the bling light, making it look like a crystal palace. Many exquisitely crafted Buddha statues are enshrined in the hall, each representing a different meaning. If you make a wish here, you must come back to fulfill your wish when your dream comes true.
Tips for visiting Wat Muang
The best time to visit Mirror Temple is in the morning and evening;
Wat Muang is about 120 kilometers away from the Victory Monument in Bangkok. It takes about 1.5 hours by car. If you depart from the bus station in Ayutthaya, it will take about 40 minutes to arrive;
It is recommended to choose chartered car or self-driving when you are to visit the Wat Muang.