Victoria Harbour is located between Hong Kong Island and the Kowloon Peninsula. It has an invincible sea view and night view. In the evening, thousands of lights are shining and mutually reflected each other. Basically, people who come to Hong Kong for the first time will visit Victoria Harbour. On the second day of each year, you can enjoy a series of colorful and fireworks displays in Victoria Harbour. People from different places will celebrate the festival together in the Victoria Harbour. The police management is very standardized, as all set to one-way walking, and the number of visitors is limited in time. Although there are so many tourists, almost everyone can only stand here straightly, in the face of such shocking and moving beauty of the fireworks displays, you will be very excited and will not pay more attention to other things. After the fireworks come to an end, everyone will feel unforgettable.
Viewing the Victoria Harbour Night View is one of the must-do things during your trip in Kowloon. Staying at the Marco Polo Hong Kong Hotel Sea View Room is one of the great choices for enjoying the night view. The 6-storey car park is a great location to enjoy the view of Victoria Harbour. There are not as many people as Cultural Centre; the hotel can go straight to Lane Crawford and Harbour City for shopping. In the morning, you can go to the Cuiyuan next to the hotel or the Yingyue Building on the second floor of the Cultural Center to have breakfast. It is very delicious and worth recommending. The per capita is less than 300 Hong Kong dollars (including service fees and tips); Opposite the hotel is 1881, where the afternoon tea is also very good.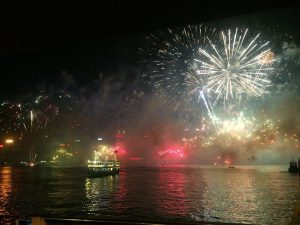 Victoria Harbour, which will appear in a lot of Hong Kong dramas, is already a popular classic view in Hongkong! The night scene is really beautiful. The Star Ferry Pier in Tsim Sha Tsui is close to Harbour City. There are many different street artists performing, and there are many people visiting there every day. There are also many tourists from all over the world.