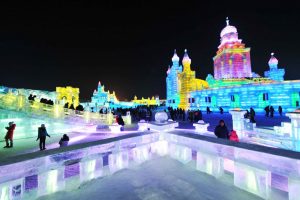 The Ice and Snow World is a famous attraction in the northeast China. Although the fare is very expensive and it is very cold, you still can take a visit there to experience the charm there. You will be amazed at the art of ice and snow. Small skateboards are recommended to be prepared in advance, and gloves and scarves also should be prepared. Be sure to keep warm. In the winter, The Ice and Snow World is the must-have experience of Harbin, the interaction of light and ice and snow will make a charming romance at night.
Due to its unique geographical environment, The Ice and Snow World is the most distinctive tourist attraction in northern China. It is open from mid-December to the end of February and the beginning of March. Tickets are priced at 330 yuan, and online bookings will be cheaper.
The Ice and Snow World is not big, and it takes only an hour to play there (excluding entertainment projects & watching shows), and there are food and beverages available in the Ice and Snow World.
Opening hours: 11:00-21:30. During the day, there are good experience, such as less queues for amusements; at night, it also has the beauty there, such as eye-catching lights. It is best to go there around 16:00 pm, you can see the white ice sculptures, and you can see the gorgeous lights.
Harbin Ice and Snow World is the world's first ice and snow landscape tourism project. Its large scale, large ice and snow art landscape, and complete ice and snow entertainment projects fully demonstrate the charm of Harbin ice and snow culture and ice and snow tourism. With the launch of the opening ceremony, a number of exciting activities such as the Ice and Snow Animation Festival and the Ice and Snow Photography Contest have been launched in succession. Everyone who comes to Harbin is welcome to enjoy a unique value experience in this international ice and snow feast! Various large-scale ice and snow art boutiques, various ice and snow entertainment projects in the Ice and Snow World showcase the charm of the ice and snow tourism of Harbin.