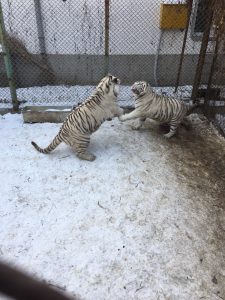 Siberian Tiger Park is generally good, whose tickets take 100 yuan/person, but you can buy it at night, which will charge 85 yuan/person, and the redemption time must be before 15:00 o'clock. The car to take visit the park is divided into two types: thrilling car and ordinary car. The thrilling cars have no glass, but only iron mesh. The thrilling cars should be for feeding the tiger. Many tigers will come around the car and you can watch them better. Tigers won't come to the ordinary cars. These tigers are more energetic than that of at the zoo, but they should also be trained. There is not much wildness. It's already not strange for them when the cars drive around, and they will slowly walk away. At the iron gate, they won't rush out when they are watching the iron gate close. There are also walking trails after the tour by taking car. The whole tour time is about 1 hour. Overall, it is worth it. The white tiger is like a big cat, which is so cute.
The tigers in the garden are also very smart, as they know there will something throw out from such kind of car, then they will look at that car. Of course, if there is nothing, then the tiger will still sleep after seeing it. Therefore, if you take the thrilling car, please buy tiger food, or take the car with other tourists who have bought the tiger food. Of course, if you are timid, don't take the thrilling car. The scene when the tiger sees the food and swoop up is still bloody.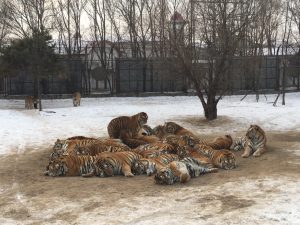 Visiting the Siberian Tiger Park is very exciting, you will have never seen so many Siberian tigers, and there are cute little tigers. It is recommended that the family with the children choose the thrilling car to enter the park as you can feed the big tiger. Feeding big tigers is funny, some young tigers are strong, and some old ones are not moving, as they are lazy.