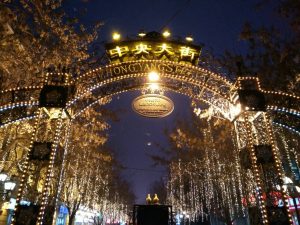 When you come to Central Street, you must try the authentic Russian Western food, as well as the famous Modern Popsicle. This commercial street with more than 100 years of history is full of many classic European architectures. It is also full of various department stores. Every night, the entire street is illuminated by the lights, which is a must-see for Harbin.
Central Street starts from the Flood Control Monument by the Songhua River in the north to Jingwei Street in the south, on both sides of this pedestrian street paved with square stones, there are numerous European buildings in various styles of Renaissance and baroque, which are full of romance. The street during the festival are filled with interesting ice and snow sculptures, waiting for you to take photos with them.
The large department stores on Central Street attract countless people who love shopping. Well-known Russian Western restaurants such as Huamei Western Restaurant, Portman Western Restaurant, and delicious Modern Popsicles are the reasons for many tourists. In addition, there are Russian craft shops, Qiulin food and other specialty stores.
The north end of the central street is the Flood Control Monument victory tower. The Songhua River in summer is very suitable for walking. On the frozen river surface in winter, there are rich activities such as horse-drawn carriage, snow circle playing and ice skating. In the middle of the central street, you can go to Zhaolin Park, where the winter ice lantern garden party is held, and from the south section of the street to the east, you can reach the St Sofia Orthodox Church.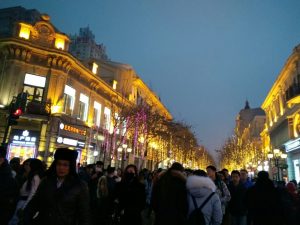 Special note: Even in summer, the wind on the Songhua River is quite cool, especially when you visit Central Street in the evening or walk along the river, it is best to add long-sleeved outerwear so as to keep warm during your trip in Harbin Central Street.