Wat Pha Budha Bat Sut Tha Wat
There are still many temples that are built on the top of the mountain in Thailand. These temples not only have the unique artistic characteristics of Thai temples, but also add a sense of majestic atmosphere that blends with nature. And this temple on the top of Lampang Mountain is one of them. We need to climb about 300 steps to reach this temple. Building such a temple in ancient times is undoubtedly an architectural miracle. Thais often say that if there is a place closest to paradise in Thailand, this is it.
Kao Na Royal Buddhist Park
This temple in southern Thailand is also known for its peaceful and quiet atmosphere. It is highly recommended for those who want to escape the world and get away from the hustle and bustle. It is not only quiet and peaceful, but also has comfortable weather and beautiful scenery. Especially in the early morning, the fog covers the entire park. In this sea of fog, you will find that the temples in the south are so beautiful!
Wat Chai Tharam Ram
Speaking of Phuket, everyone is very familiar with it, and this historic temple is said to be the most beautiful temple in Phuket. One of the abbots of this temple, Luang Por Cham, is not only admired by the locals in Phuket, but also respected by neighboring countries of Thailand like Malaysia, and the temple is also famous.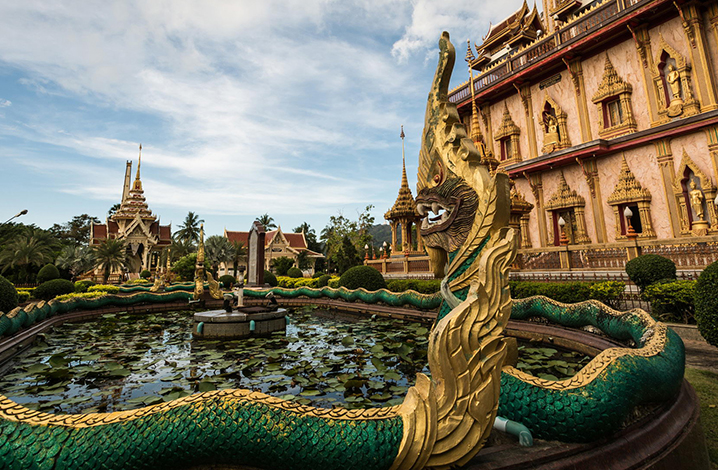 Wat Sothonwararam Worawihan
The biggest feature of this temple by the Bang Pakong River is that it houses the Buddha statue of Luang Pho ButaSothon. This golden Buddha statue is very artistic and reveals a sense of sacredness. Friends who like to study Buddha statues do not miss it.
Wat Phra That Doi Kong Mu
This is probably considered to be the iconic building of Mae Hong Son. Any tourist who comes to travel here should not miss this beautiful Thai temple. In addition to enjoying various ancient cultural relics, you can also experience the beautiful surrounding scenery. If you have the opportunity to go to Mae Hong Son, this temple cannot be missed.