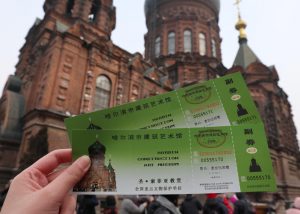 Located in the Daoli District, St Sofia Orthodox Church is a Byzantine-style Orthodox church which was built in the year of 1907 and is an iconic building in Harbin. The rich exotic atmosphere has become a unique landscape in Harbin, and it is a historical witness and an important relic of the invasion of the Northeast China by Russia. This nearly 100-year-old building is magnificent, simple and elegant, and it is full of charming colors. The church is no longer a place for worship. Like an exhibition hall, it tells the history of Harbin. The interior decoration of the church is fascinating. There is also a place for feeding pigeons at the door. The pigeons are flying around the church and the scenery is very beautiful. There are also many shops around the church, selling candied haws, hats, chocolates, etc.
Tips: ticket for the church is 15 yuan/person. You can take the bus No.1, 2, 3, 5, 8, 13 to reach there. The address of the St Sofia Orthodox Church is Daoli District, Toulong Street Commercial Center. Opening Hours of the church is from 8:00~18:00 and you are recommended to play there for 1 hour.
When you come to Harbin, you cannot miss the St Sofia Orthodox Church. And you can visit it in the daytime and then go there again at night as the scenery there during the daytime and the night are different. Go inside and visit it, you will feel the church is very tall and spectacular, and there are historical photos in it! The churches are all made of red bricks, and they are very beautiful! It is not far from Central Street! If you live in Central Street, you can go to the church straightly. And it is near the Harbin Station.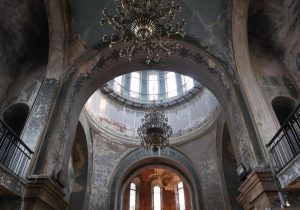 It is very characteristic outside. At present, the interior of the church is under repair. It is very decorative in the style of the Orthodox Church. The square outside is very open and the sun is very good. Many tourists in the vicinity take pictures and the residents are relaxing.