Shanghai Old Street, also known as "little east gate", brings together the earliest Banks, gold shops, silver houses, tea houses, opera houses and so on in Shanghai. It was an important venue for Shanghai's foreign trade and small commodity trade, and witnessed the economic and social development of Shanghai. Shanghai old street is divided into two sections with guanyi street as the boundary. The eastern section retains the residential characteristics of the late Qing dynasty and the early republic of China, while the western section highlights the folk customs of the Shanghai old city. Shanghai Old Street reproduces the old Shanghai teahouse, spring breeze happy building, xishi Tofu house and other century-old shops, while opening danfeng teahouse, famous medical hall and other traditional characteristic shops.
Official phone number of the Shanghai Old Street: 021-63741777
Time reference for visiting: more than 3 hours
Transportation to the Shanghai Old Street: take bus 64 to xiaodongmen road (bus stop)
Ticket: free of charge
Opening time: all day
Shanghai old street is located in the old city of huangpu district, which is also the location of the gate of xiaodongmen. In the area of xiaodongmen where Shanghai old street is located, there are many visitors during the day. Most of them come to visit the old City god temple and Yu garden and then walk eastward to see the Bund. Going east of old street exit, it is to the 16th shop that has been rebuilt, it is excessively colorful.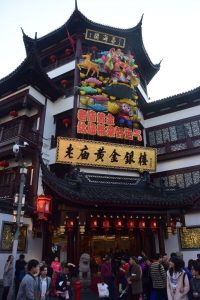 It feels like taiyuan street in shenyang. There are a lot of small shops. You can listen to the shopkeeper introducing his fans in shanghainese, which costs 10-30 Yuan per fan. And you can stroll all kinds gauze towel stores. Or you can walk to lane hall inside, look at the small cheongsam and then look at the sky not far from the high-rise buildings, it is really a kind of feeling passing through time.