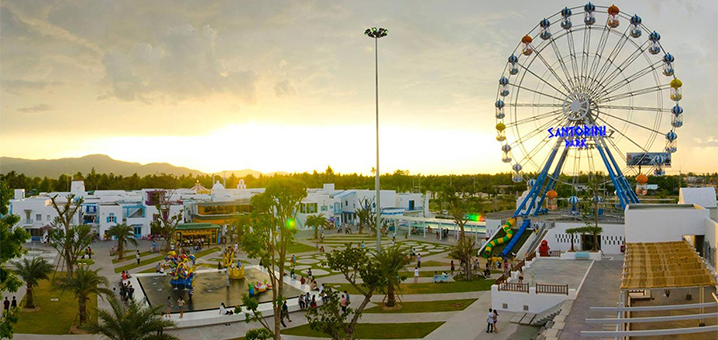 Santorini Park is a theme park that is located in Cha-am. The landscape of the entire park is designed and named after the style of the Greek Santorini island and it mainly adopts the Mediterranean style of blue and white, then bolds with a variety of other bright colors, without any sense of acosmia to make the color aesthetic be played to the fullest, and you will definitely feel the Greek style at Santorini Park.
Santorini Park is a theme park that integrates entertainment, relaxation, and shopping. For the girls, it is a must-go shrine for taking photos. The park covers about 10 hectares and is divided into 5 areas: Village Zone, Rest Area, Park Zone, Activities Area, and Hotel Zone.
When entering the Village Zone of Santorini Park, you can see many brand-name stores, each store will have a discount, and the price is much lower than in department stores or brand stores. In the jewelry store, you can buy some Greek-style items as gifts to take back to friends.
In the Park Zone, you can take a 40-meter-high ferris wheel to see the beautiful park. If you bring children, then the climbing design, ice and snow world, colored ball pool, transparent ball on the water will make you and your baby have good memories!
For the activities area, there are often large-scale performances. Thai sellers in the park will place small night markets in the park, and souvenirs at night markets are all at affordable prices, and they are all local handicrafts. If you are interested in ethnic and handmade jewelry and crafts, then the night market in the park must be your paradise.
Santorini Park Information:
Address: Petchakasem Road, Amphoe Cha-Am, Phetchaburi, Thailand 76120
Opening hours: 10: 00-20: 00 from Monday to Friday, 09: 00-22: 00 on Saturday, 09: 00-21: 00 on Sunday and holidays
Transportation: take the bus at the southern bus station in Bangkok, take a bus from Bangkok to Hua Hin Cha-am for about 3 hours, from 3:00 am to 21:00 pm, there will be buses every 35 minutes, with the ticket fee of about 110 baht.