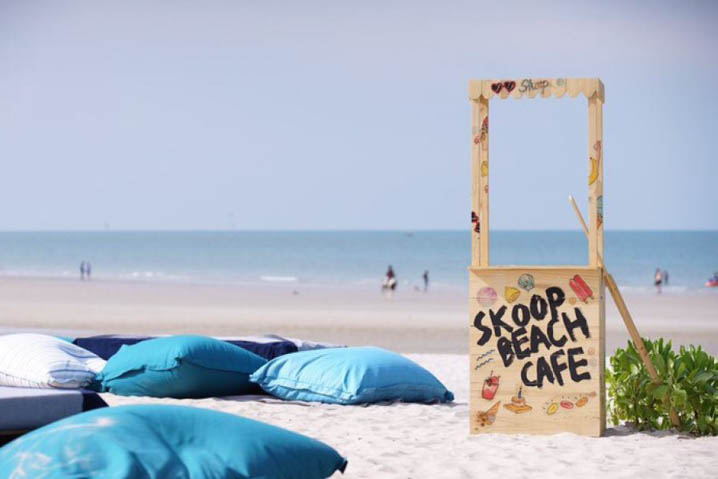 Skoop Beach Café, Hua Hin's first seaside dessert shop, relies on the geographical advantage of Varanda Beach Apartments to securely occupy this private beach. The Skoop Beach Cafe is supported by the famous Hua Hin Chopstick Mountain, making it the best position on the mountain and the sea. Whether it is tourists from various countries or local Thais, if you visit Hua Hin, you must visit this place.
The facade of the café is high floor glass, and the simple interior decoration is based on white. Through the glass windows, you can see the boundless blue sea at a glance. As a coffee shop, Hua Hin Skoop Beach Café with the bright and simple Korea style has attracted people who like to take photos of food, and there are so many delicious desserts in the restaurant.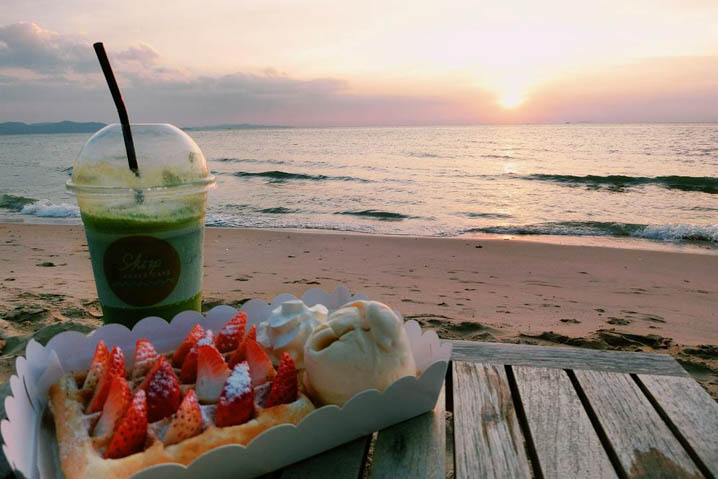 Although the color of the ice cream in the Hua Hin Skoop Beach Café is bright, it is not added with any industrial pigments. It is extracted from natural plants: blue is Thai butterfly bean, red velvet is beetroot, and purple is elderberry, to show Italian Gelato charm. There are many flavors of ice cream to choose from, and you can freely match the color and taste of roses. In addition to ice cream in the store, there is also a food package: signature waffles + ice cream. It is recommended to fully stir, otherwise, it will feel particularly sweet. The waffles are slightly chewy and mixed with ice cream for a special taste.
The dessert shop is at the foot of the Chopsticks Hill in Hua Hin. After eating ice cream, you can also go to the hill to amuse the little monkey. If you are in good shape, don't forget to put on the beautiful swimsuit to take photos here.
Opening hours: 11:00-21:00