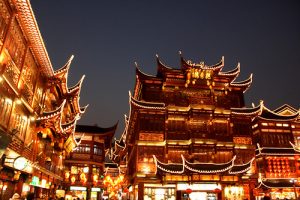 The old Ximen station of the subway is the tourist area of the Old City God Temple. Before Shanghai opened, it was the place where Shanghai people lived together and it can be regarded as the old urban area of Shanghai. Later, as the concession, the Bund built a lot of buildings such as the foreign bank. Beginning more than one hundred and sixty years ago, Chinese and foreigner was separated from the concession and the Old City God Temple, forming two areas: the new area and the old urban area.
In the evening, the Old City God Temple is gorgeously lit, crowded and bustling. From the Old City God Temple, you can walk to the Bund. The Oriental Pearl stands on the other side of the Huangpu River. She is no longer the tallest building, and it is placed closely side by side with the buildings next to it to symbolize the change of times.
For a small group of people, the Old City God Temple is a temple, where it features the incense and Buddha, which costs 10-yuan ticket, and if you want to burn incense and worship Buddha, you can consider it. As the temple is very small, it takes five minutes to get in and out. The Old City God Temple is surrounded by various businesses, selling Shanghai specialties, selling novelty, etc.
As a foreigner, you may not understand the Old City God Temple at first, and you may think that the it is just like name of this area like Lujiazui. After the visit, you will learn more or less that it has a high status in the hearts of local people. The Old City God Temple is the god of Taoism, and it also enshrines the gods of spirit and the god of war.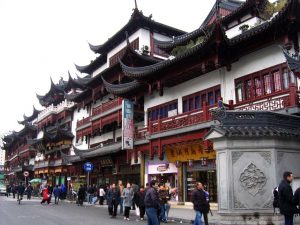 For many tourists, it feels that the night scene is more beautiful, the temple is very large and beautiful, although some of them are clearly seen as newly built, overall it is still worthy of a visit. And keep in mind that the temples in Old City God Temple and the Yuyuan are opened before 16:00 o'clock.