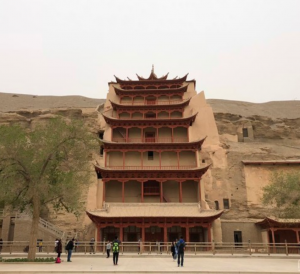 The attraction that must visit during your tour in Dunhuang is the Mogao Caves. Mogao Grottoes only accepts 6,000 visitors a day. If you are going to go to the Mogao Grottoes in the peak season, you have to make a reservation one month in advance. You can visit 8 caves with the reservation ticket. If you are buying an emergency ticket, you can only view 3 or 4 caves, two of which are the grottos of the great Buddha.
The Mogao Caves itself can bring visitors excellent experience, and the trip there will be very shocking. When you see the murals with your own eyes, you will feel that everything is worth it! Looking up at the flying Apsaras, the craftsmanship of the gold paintings, the complex and delicate transformations, the vivid statues, all of these will leave you unforgettable memory there. From the grand scale of the Mogao Grottoes, you can see the prosperity of Dunhuang, the important town of the Silk Road. Whether you are attracted by paintings, statues or religion or history, you will not regret it when you come there. Of course, it is best to take a look at the Mogao Caves during the off-season.
The Mogao Caves are 1.7 kilometers long and have thousands of caves, but not many of them are open to the public. Anyway, you will feel surprised by the beautiful murals in the caves, the craftsmen were able to draw such wonderful pictures in the very ancient conditions, and the materials used were all mineral pigments. After the millennium, the colors were still bright. The painters are quite good. Every Buddha statue on the wall looks different. They are neatly arranged. It is not easy to paint on such a high ceiling. At that time, it is not easy to make such a bright painting. After an hour and a half of the tour, take the bus back to the digital center after you finishing your visit in the Mogao Caves.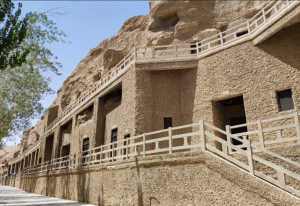 In general, Mogao Caves are very worthwhile to visit. Although the tickets are not cheap, the actual experience there will appreciate its value. The murals of Mogao Caves are disappearing because of various diseases, so, just take your time to have a visit there if you are really interested in this scenic spot.