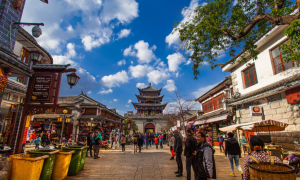 The Dali Ancient Town is located at the foot of the beautiful Cangshan Mountain. It is the capital of the ancient Nanzhao Kingdom and Dali Kingdom. It is also known as YeYu City, Forbidden City, and Zhonghe Town, the streets in the town are in a typical checkerboard layout, which is the core tourist area of Dali. The weather in Dali in the third and fourth lunar months is fine, and the national festivals there are also concentrated. The most famous one is "March Street". At this time, it is most appropriate to appreciate the scenery and feel the folk customs in Dali. In the streets and lanes, "three homes have one well, one household has a few pots of flowers." Here you can raise flowers, grass, cats, dogs, go to bars, and enjoy the slow life of art and fashion.
Official telephone number of Dali Ancient Town: 0872-2504361
Visiting time for reference: more than 1 day
How to go to the Dali Ancient Town:
Take the train to Dali, you can take the No. 8 bus directly at Dali Railway Station. The terminal is near the west gate of Dali Ancient Town (Cangshan Gate). The fare is 2 yuan/person. By plane to Dali, you can take the airport bus to Cangshan Hotel, then take the No.8 bus at the nearest "city hospital" station.
From Xiaguan to Dali Ancient Town, take the bus No. 4 originating from the bus company. The destination is near the south gate of Dali Ancient Town. The fare is 1.5 yuan/person.
There are some minibuses on the Xiaguan Jianshe Road and Cultural Road to Dali. The journey takes about 30 minutes and the fare is about 50 yuan.
Tickets for the Dali Ancient Town: Free of charge
Opening hours: all day
Tips: The opening hours of the internal attractions are roughly from 08:00-17:00.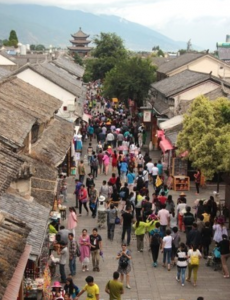 Going to Dali, you can live in the ancient town or live in the new city. Some people may think that the ancient town for living would be inconvenient, but in fact, in the antique courtyard, you can enjoy all the modern facilities, and in the ancient town, the hotels, bars, clothing stores, the literary and art goods stores, souvenir shops are all available, and the price is very reasonable.