Luhuitou Park is very big. If you have poor physical strength, you can take a sightseeing bus back and forth. Ticket price is 15 Yuan. In the Peak View Terrace, you can overlook the East Sea, which is very beautiful. You can get up early in the morning. The sun is too hot at noon. Luhuitou Scenic Area is recommended to be visited at night, watching the night view is really enjoyable! Standing in the statue of Luhuitou, Sanya, which is brightly lit, has a special charm in the night. The parking in the scenic area is convenient, and the night view of the entire Sanya Bay can be seen at night, which is very awesome.
The mountain is not high, it can be finished visiting in one and a half hours during the day, and it can be visited in the night for a long time; the park is very suitable for lovers to play there, which will be very sweet. It is advisable to get to know the history of the Luhuitou before going in the park. It is a park that must go to during your trip in Sanya, Hainan. Here are the legends of the Luhuitou. It is the spiritual symbol of the city. Here you can see landmarks on Phoenix Island. The night view here is even more amazing.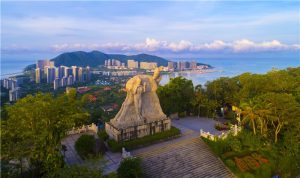 To Luhuitou Scenic Area, taking bus can directly reach the park. The viewing platform and Luhuitou statue are the main feature of the scenic spot, the ticket price is very cheap, and t is worth visiting. This is one of the southernmost attractions in Hainan. There is a fascinating love story. The scenery is charming and gives people some delusions. You can see the whole picture of Sanya on the top of the park, and you can see the sea view of Nanshan on a sunny day. There are wild monkeys and performances. And there are very few tourists. The scenic area is very suitable for vacation and relaxation. You can overlook the panoramic view of Sanya Bay from the top of the mountain. There is also a sea view pavilion to see the sea, whose angle is perfect, and it will let you forget all the troubles!