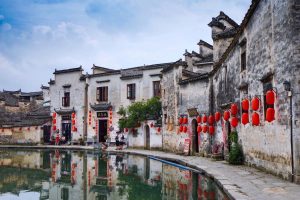 Hongcun Ancient Village was listed in the World Cultural Heritage List in 2000 and is the most representative village in the Hui-style architecture. From the overall appearance, Hongcun Ancient Village is a peculiar cow-shaped ancient village. The more famous attractions are Tachuan and Mukeng Bamboo Sea, Nanhu Lake and Moon Marsh. This is the famous South Lake, with a small bridge in the middle. Her name is the painting bridge. In the quiet alley, walking on the road of bluestone, listening to the raindrop, your heart will feel quiet, and you will forget the worldly shackles and finding a moment of peace. You can be delighted by the beautiful wood carvings, stone carvings and brick carvings you can see everywhere. While visiting the Hongcun Ancient Village, you will find that the beautiful scenery is fascinating and intoxicating, and you will like its cultural connotation. The Nanhu Academy, which is known as the Hongcun Cultural Context, is one of the highlights.
Hongcun is a relatively special place in Anhui. Its architecture is a typical Huizhou architecture. When you arrive in Hongcun, you can see a miniature version of Anhui. The lakes and mountains are harmoniously co-located with the floor and the courtyard. The natural landscape and the humanities are in harmony. It is the characteristic of Hongcun which is different from the layout of other residential buildings!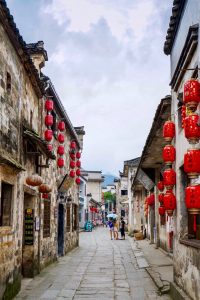 Hongcun Ancient Village is worth a slow tour. Three periods of slow travel can be around the morning time before or after the sunrise, lunch time at noon, and the evening time when the lights are bright. During these three periods, Hongcun Ancient Village turning from being quiet to noisy, and there are few people in the scenic spot. So, strolling in the quiet scenic spot, you can quietly feel the natural beauty of the scenic spot. When you are ready to use the camera to shot the beautiful scenery, the tourists will not disturb you. Therefore, it is recommended that you enter the scenic spot at noon, stay at the hotel at night, and walk slowly in the morning on the second day, then leave the village at noon.