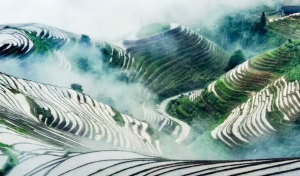 There are many specialties on the Longji Rice Terraces, including bamboo chicken, bamboo rice, and delicious wild vegetables, which you may have never eaten before. And highly suggest you taste more. Longji Rice Terraces is really beautiful, and there is different scenery in different seasons. There are three viewing platforms. You can see terraces from different angles. It is not too tired to climb because of excitement at the time. Walking on the ridge of the terraced fields, it is not dangerous. The terraced fields are ploughed out for planting rice. With a little steam, it looks good. Looking at the wooden buildings of the villagers in the distance, it is clean and beautiful.
If you choose the tour route from far and near, that is, Jinkeng Dazhai—Ping'an Village–Longji Guzhuang Village, you can directly drive to the Longji Terraced Scenic Spot Ticket Office (Visitor Center) to purchase tickets, which is100 yuan / person. The fare for the car entering the scenic spot is 60 yuan / vehicle.
It is really awesome to make a field on this nearly vertical hillside. The curved arc extends up and down, as if connected to another hillside, such as undulating waves, like a dancing ribbon.
The recommended route is: Gu Zhuang Zhai – about 30 minutes' walk – Ping'an Rice terrace- through Huangluo ancient village – Jinkeng (the largest and most spectacular terrace) – Xiaozhai (suitable for normal days, not holidays)
Ping'An village – Jinkeng (is very worthwhile to play, after all, the harvest season has arrived) – Xiaozhai (suitable for National Holiday)
It is recommended to walk up the mountain to Jinkeng terraces and take the cable car down the mountain to overlook the entire terrace. The team of the cable car is very large, and it is not sure whether it takes 1 or 2 hours to queue up.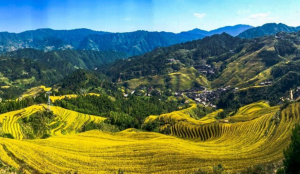 It is recommended to walk up to the observation deck on the 3rd route, and you can see the whole terraced scenery on the mountain road. This route is slightly more difficult than walking to the observation platform on the No.1 observation platform. If you are older, it is recommended to choose taking the cable cars.