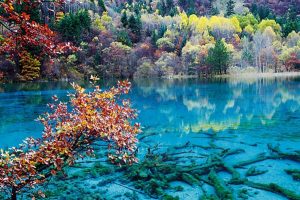 The fairy tale Jiuzhaigou, is a place where people want to come again. The scenery is simple and natural, and all kinds of transformed scenery have an indescribable beauty, just like a fairyland on earth. The water in Jiuzhaigou is the elf that God gave to the world. When you have a trip to Jiuzhaigou in the autumn, you will feel the water there all the way clear, all the way to the colorful forest. Maybe you will turn off the mobile phone, do not provoke the dust, and just be together with several friends to enjoy the fun, and let the body and mind melt between the green mountains and green water. In the entire ditch, strange lakes are scattered. More than a hundred lakes are surrounded by ancient trees, and exotic flowers. The lakes are connected by waterfalls of the rapids, each with its own characteristics and endless changes.
More than 10,000 people have gathered at the entrance of the scenic spot earlier than 7:00 o'clock in the morning. Tickets are collected at the self-service ticket machine. It is strongly recommended to book tickets online in advance, so that you can directly pick up the ticket on the self-service ticket machine at the visitor center with your ID card, and you don't have to queue at all. If you don't have online booking, you can only queue up to buy tickets. The team is not very long, but still need to take about 1 hour or queueing.
Booking tickets online does not include tickets for sightseeing cars, but the scenic area is very large. It is difficult to walk without a car. Of course, it is except for hiking. Therefore, you still need to buy a ticket for the sightseeing car. It is not recommended that you queue up to buy the sightseeing car ticket, because you can fill the ticket at the gate check-in, you can directly pay the ticket for sightseeing car. The team that checks the ticket at the door is also very long, and it takes about an hour. In front of the gate, it is full of people.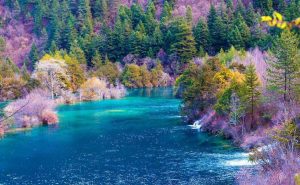 Jiuzhaigou gets the name because there are nine Tibetan stockades in the scenic area. These nine stockades lived here for generations, so they got the name Jiuzhaigou. Shuzhengzhai is the largest and most representative of the nine stockades. If you have to visit Jiuzhaigou for 2 days, you can stay overnight in the scenic area.