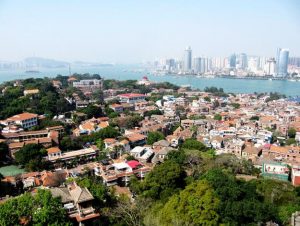 Gulangyu's ticket can bought by paying attention to the public number of the Xiamen cruise ship on WeChat or Alipay. After the registration is successful, the ticket can be purchased directly, and the ticket amount can be synchronized with the on-site purchase in real time. Ordinary class round-trip ticket is 35 RMB/person, and after you purchase the ticket successfully on WeChat or Alipay, you do not need to change the ticket at the scene, you can directly enter the wharf by showing the ID card.
There are three wharf s on Gulangyu Island, one is Sanqiutian Wharf, one is Nei Cuo Ao wharf and one is the civic wharf. Most tourists choose to go to the island from Sanqiutian wharf because Sanqiutian is closer to the core attractions of Gulangyu Island and it is livelier. But if you just want to enjoy your vacation and don't want to see the crowds, the Nei Cuo Ao wharf is better for you. There are more local residents there and it is closer to our life.
After 17:30 pm, the cruise ship returning from the Nei Cuo Ao wharf will be suspended, and the cruise ship returning from Sanqiutian Pier will not return to the Xiamen Gulangyu Island Pier, but will return directly to the first wharf, which is near Zhongshan Road. If you want to go shopping and eat, please arrange your time!
In the afternoon, it is not suitable to go out. When the sun is slanting, you can slowly come out and walke around. Of course, the tour group at the moment has basically returned, and there are fewer tourists on the island.
Gulangyu Island really deserves the title of "architectural complex of nations", and every old house is so tasteful!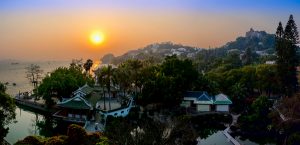 Gulangyu Island at night and Xiamen Island is across the sea, which is so beautiful and quiet. Blowing the sea breeze, leisurely walking around there, you will feel it very comfortable!
Really, if you choose to stroll around the Nei Cuo Ao wharf, you will definitely choose to stay for another night on the island. It is not crowed, but comfortable, and the best for emptying!