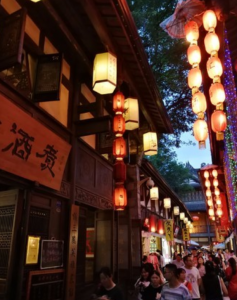 Jinli is an antique commercial street, and it is one of the most popular attractions in Chengdu, and part of the Wuhou Temple Museum in Chengdu. Here, you can admire the craftsmanship of the clay figurines, the sugar paintings, and you can go to the shops which are full of the Three Kingdoms characteristics. There are also a variety of Sichuan specialties in the street, and a variety of tea houses, cafes, bars, and inns can be seated at any time. At dusk, Jinli will light up and have a charm, which is suitable for taking pictures.
Official telephone number of the Jinli Old Street: 028-66311313; 028-85511800; 028-85538914
Time reference for visiting: 1-3 hours
Transportation: Take bus No.1, 57, 82, 334, 335 to Wuhouyu Station or take bus No.8 and No.21 to Wuhouyu East Street Station.
Tickets: Free
Opening hours: all day
Tips: Store opening hours 05:00-23:00.
Jinli Old Street feature wooden doors which is a hundred years old, and thousands of stone roads. Shooting, brocade, inn, the sound of the gongs, the pursuit of the passing of life; embroidery, bamboo, pawn shop, and sedan, all wake up the memories in dusty. In the old street, people flow along with the crowds, and the various arrangements on the roadside show the delicacy and elaboration.
In this way, leisurely and leisurely strolling in Jinli, the nostalgic people's emotions have been exported, and the people who love to eat satisfy the appetite. The fans of the Three Kingdoms fully feel the culture of the Three Kingdoms. In fact, what people more experienced is a traditional culture and they can comprehend the diversity of life. Jin Li represents the reality of the human world, but the core is the culture of the millennium.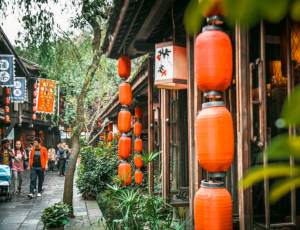 When you come to the leisurely Chengdu, you don't want to leave, and want to come again. Going to the Jinli Old Street in the evening is the correct way. There are red lanterns everywhere, and the night scene is beautiful. Many shops (hot pot restaurants, Sichuan cuisine shops) can watch performances (singing, changing faces, Sichuan opera) while eating.