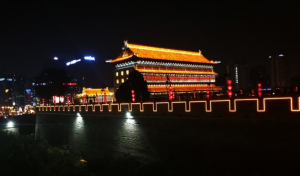 There are many entrances to the city wall. It is good to tell the taxi driver to get off at the entrance to the nearest city wall. The fare is about a dozen yuan. If 3-4 people take a taxi, it is quite cost-effective.
Locations to climb the Ancient City Wall: There are 19 gates in the Xi'an City Wall, and visitors can climb from the nearest gate.
3 gates at the east lines – Dongmen West, Zhongshan Gate, northeast corner of the city wall;
4 gates at the west lines – Yuxiangmen, Ximen (2 gates), southwest corner of Beima Road
7 gates at the south lines – Xiaonanmen, Nanmen (main gate in the city, Yuecheng suspension bridge), Wenchangmen (2 gates), Heping Gate, Jianguomen
5 gates at the north lines – Xiaobeimen, North Gate (2 gates), Shangdemen (located on the southwest side of the railway station, 1 gate in the ring road in the city, there are ladders outside the city).
Vehicles on the Ancient City Wall: The city wall is equipped with sightseeing cars and bicycles that can be rented. The bathroom on the wall provides free services to visitors. The ancient city wall lies quietly in the modern high-rise buildings, like in a flowing time, and a small piece of solidified time space. The city wall is long, and it is recommended that anyone who has time can rent a bicycle on the wall to go around the city wall for a circle, and renting a car on the wall is also very convenient. There are bus stops under the city wall, and each bus stop has shuttle buses to the small wild goose pagoda, so you don't have to worry about it.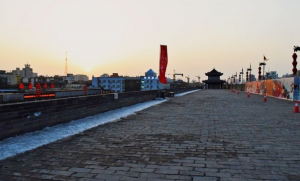 The locals say that it is better for you to visit the ancient city wall at night as it is much beautiful during night. It is recommended to enter from the south gate. The city wall is as wide as 4 rows of lanes, and it is slightly oblique. While walking on the wall, overlooking the bell tower and the drum tower not far away, you can feel the historical charm of Xi'an. If you want to play well the city wall, you must go in the evening, you can see the sunset and see the night scene. Leaning against the city wall, taking pictures of the panorama scenery, it is really very awesome.