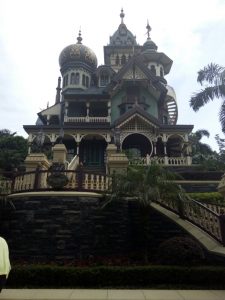 Hong Kong Disneyland is located on Lantau Island and is the first theme park based in California Disneyland, including Sleeping Princess Castle.
Hong Kong Disneyland is known as the Mini Disneyland resort. Disneyland tickets can be purchased online in advance or purchased on-site.
Here are the funny projects recommendations: Star Wars Hall, Pirate Captain's Hall, Carousel, Princess Tour, Fireworks Show. The princess tour and the fireworks show will have a fixed time, which will be different in different seasons.
Hong Kong Disneyland Resort opens at 10:00 o'clock and you can gather there at 9:00 o'clock. You can take the hotel bus at the left of the hotel's main entrance. It takes about 10-15 minutes to have a bus between the three Disney hotels and Disneyland. And you can take the bus for free, and it takes three minutes to arrive the Disneyland Resort.
Security inspection including checking the bag, and you cannot take the food and the selfie stick, but the water cup can be brought, there is direct drinking water in the Disneyland, you can drink it. After the security check, you need to redeem the tickets and meal coupons which are bought online in advance. The merchants will send them to your mailbox and you can exchange them with the QR code in the mailbox. It is very convenient. On the right side after you enter into the Disneyland, there is a compartment below the small train, where you can take a map of the Disney. You can also download the Hong Kong Disney app on your mobile phone, and it is very useful to have real-time performance time information on it.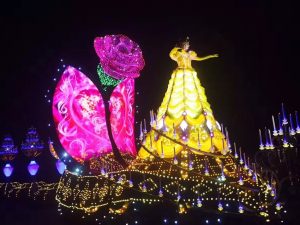 A lot of people line up to take photo with Mickey and Minnie on the left and right sides of the entrance; in addition, Donald Duck, little squirrels and other cartoon characters will appear regularly to take photos with tourists.
Note: When the fireworks show is at night, do go there as soon as possible. The closer you are, the clearer you can look. And if you are the first time to be Disney, you will be impressed by its fairy-tale style.