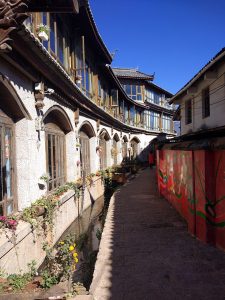 Shuhe Ancient Town is located in the northwest of Lijiang Ancient City. It is an important station on the ancient Tea Horse Road. The ancient town is surrounded by mountains and rivers, and its structural layout is similar to that of Dayan Ancient City. The houses are scattered in order and there is flowing water between the roads. The environment is beautiful. What is rare is that due to the late development of tourism, Shuhe Ancient Town is much quieter and simpler than Dayan Ancient Town.
Entering from the big archway with the words "Shuhe Ancient Town" on the carved beam, and walking along the stone pavement with the shops on both sides, you can go all the way to the center of the ancient town. Like the ancient town of Dayan, it is also called Sifang Street. At that time, Sifang Street was the place where people traded fur goods. Now the Sifang street is surrounded by shops, and you can feel the prosperity of the year.
Along the stream against the current in the Sifang street, passing by the Qinglong Bridge, you will find a pool of the clear and green water is on the side of the road. This is the source of the stream: Jiuding Longtan. There are a lot of rainbow trout in it, and the meltwater of the jade dragon snow mountain makes it a natural farm for rainbow trout. The Longquan Temple, also known as the Sansheng Palace, is built on the edge of the lake. Climbing up the hillside behind the Sansheng Palace, you will find there is a relatively open flat, which is a good place to overlook the panoramic view of the Shuhe ancient town.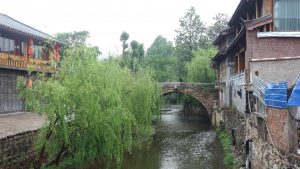 The Tea Horse Trail Museum on the Zhonghe Road in the ancient town is a place worth visiting. The museum mainly introduces the history of the ancient tea-horse road, including the tea-horse trade, the leather goods trade and the origin of the Shuhe cobbler. You can have a simple understanding of the history of Shuhe there. In addition, the mural exhibition hall should not be missed. The mural painting of the Liupu Dajue Palace was painted in the Ming Dynasty. Although it is later than the Baisha mural, it is also exquisite.