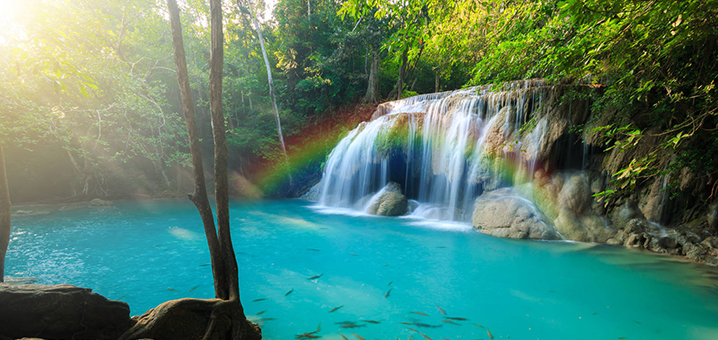 The natural scenery of Thailand has always been a big reason for attracting travelers. The Erawan Waterfall is located in Kanchanaburi. It takes about an hour by car from Kanchanaburi. And it is approximately 2 hours drive from Saiyou, and the cost of a chartered round trip is 3000 baht.
With the arrival of noon, the mountain is also sultry, and it is a very pleasant thing to go into the water to play for a while and continue to crawl up. When you keep going up, the waterfall looks more and more changeable. The faint blue has become deeper and deeper. Although the bottom can still be seen, this blue has made people feel innocent. Many Europeans start to play on the mountain at 5:00 or 6:00 o'clock, and start to go down until 11 o'clock. Around 9:00 o'clock is the best time period, and almost no one will grab this natural bath with you.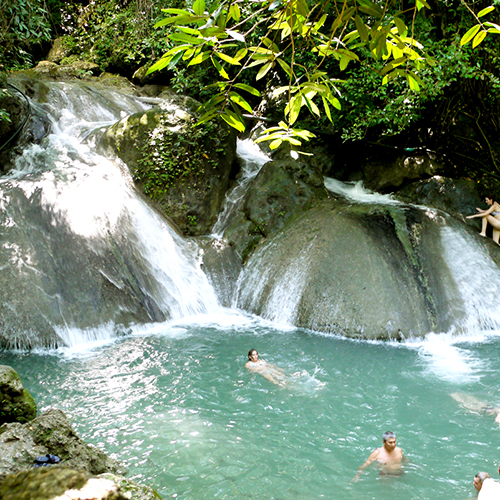 Erawan Waterfall, also known as the Seven-layer Waterfall, is a natural waterfall created by a total of seven layers with different shapes. Each level of waterfall will have different colors, and the colors of mountains and stones will also be different. The more you go up, the clearer the water will come. There is a small natural gap between the third and fourth layers, which is a favorite place for many tourists. Most of the tourists also spent time here. There are also free fish bites that are really comfortable! Just lie in the water, let the sun shine on every corner of your body, it is warm and quiet. The waterfall is beautiful and dazzling, and each layer has its own unique features. Pay attention to allocating time for play, the seventh floor will be closed after 18:00, and there will be more and more tourists in the afternoon.
Address: Si Sawat, Kanchanaburi
Means of transportation: chartered cars are required. At Kanchanaburi station, chartered cars or mini buses are available. The approximate price of the chartered car is around 2000-3000 baht.