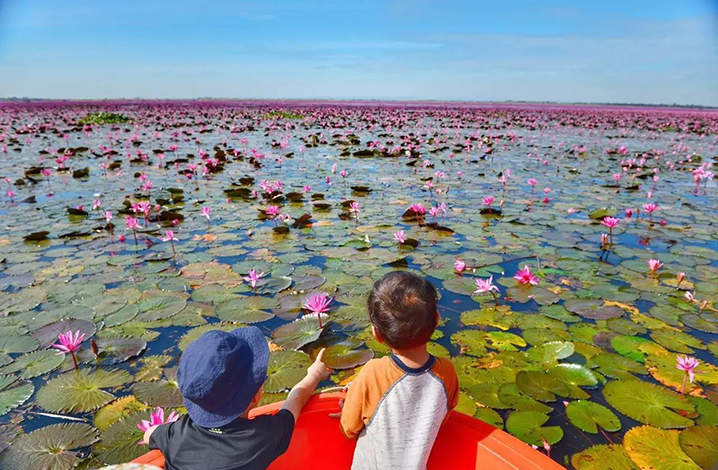 Udon Thani is an unknown province that is located in the northeast of Thailand. However, from November to March every year, a sea of red lotus like a carpet of water is hidden. When the red lotus flower is in full bloom, more than 4,000 acres of lotus flowers dye the lake into a beautiful color, and the horizon that borders the sky presents a beautiful pink.
The local government will also hold an event on the lake on Valentine's Day on February 14. The atmosphere will be livelier and it means there will be more tourists. You can appreciate the charming view of the red lotus from sunrise till 13:00 p.m. If you want to enjoy the sunrise and lotus scenery at the same time, the best viewing time is 6 o'clock in the morning, and you can enjoy the sunrise mapped on the pink horizontal line. After 13:00 o'clock in the afternoon, if the sunlight is too strong, the lotus will gradually close, and it will not bloom again until the evening.
Address: The Red Lotus Marine is located at Nong Han Kumphawap Lake, less than 50 kilometers from Udon Thani, about 50 minutes by car from the city. Enter Red Lotus Marine in Google Maps to reach the dock on the lake.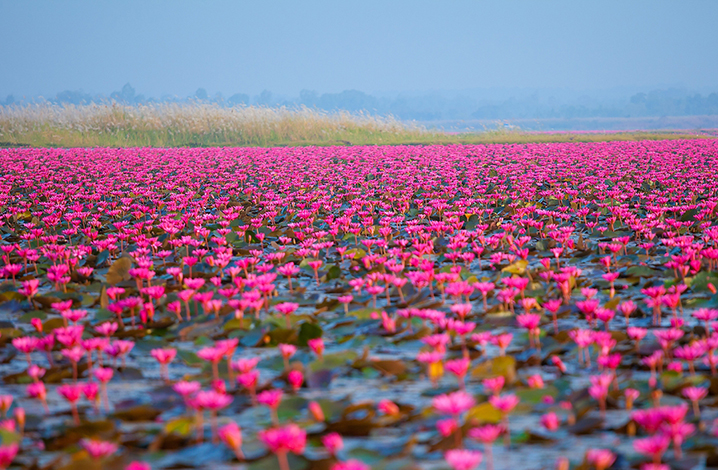 How to get to the Red Lotus Marine in Udon Thani
Plane: Udon Thani has an airport, you can fly from Bangkok, with about an hour's flight, and other major cities in Thailand also have flights to Udon Thani.
By car: It takes more than 7 hours to drive from Bangkok or Chiang Mai to Udon Thani for about 600 kilometers.
Long-distance bus: There are buses to Udon Thani at the Mo Chit 2 bus terminal in Bangkok, and there are also buses from Chiang Mai and other larger cities to Udon Thani.
Train: Bangkok has a train to Udon Thani, but it is time-consuming. The price of train tickets is sometimes not as good as promotional plane tickets.