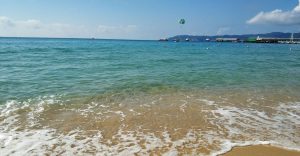 Yalong Bay Tourism Zone is located 28 kilometers southeast of Sanya City, Hainan Province. It integrates the five elements of modern tourism, ocean, beach, sunshine, green and fresh air. It is one of the southernmost half-moon bays in Hainan and one of the famous scenic spots in Hainan. The beach stretches 7,000 meters and is flat and wide, with shallow seas ranging from 50 to 60 meters. The sand is white and soft, the sea water is clear and clean, the visibility is 7 to 9 meters, the annual average temperature is 25.5 degrees, the sea temperature is 22 to 25.1 degrees, the beach bath is excellent, so that you can enjoy swimming there all year round, and it is known as being the world's first bay.
If it is the first time to Yalong Bay, you can take the bus or locate the Yalong Bay-Love Cube, which is the central square. The square rises to the blue sky with a totem pole, and the sculpture group extends to the earth and the sea. When you see this square, you will arrive near Yalong Bay. From the central square of Yalong Bay to the end you can see the sea, but you can't go down to the beach, as you have to take the public beach passage next to it. In addition, there are seafood food stalls on both sides of the entire central square, so it is quite lively at night.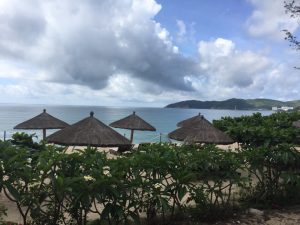 One of the most important entertainment aspects of Yalong Bay is to play at sea. The sand on Yalong Bay is really much thinner than the Sanya Bay and Dadonghai in the city. It is no wonder that this is the real holiday paradise. First of all, due to the limited size of the area, tourists will be less than the urban area. Compared with the urban area, Yalong Bay's public beach facilities are not bad. There are more mature businesses on the beach. Many green plants can cover the sun for tourists. There are also sun loungers for rent during the day, so it is recommended that everyone can enjoy it on the beach.