When it comes to Xi'an, the first reaction of everyone is the Terracotta Warriors, which is one of the eight wonders of the world. When you are visiting the Terracotta Army Museum, you will definitely feel the history of 5,000 years in China and feel the wisdom of the Chinese people since ancient times.
It takes only 75 minutes to get to the Terracotta Warriors from the city to the Terracotta Army Museum. Take the 306 bus from Xi'an Railway Station, and get to the destination by only 7 Yuan. Remember that it is 306 bus. There are also Lishan, Huaqing Pool and Terracotta Warriors in one line! The fare is 150 Yuan. If the weather is too hot, you can take a scooter, which costs 5 Yuan per person, and it goes straightly to the gate of the Terracotta Warriors. It is a good deal.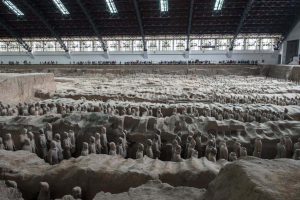 It is said that the Terracotta Warriors were first discovered by a local villager when they dug wells. They were also unearthed with color. They were vivid, but later they were oxidized and turned into bronze after being unearthed. Even so, the mighty terracotta warriors are still spectacular, and so many visitors there are shocked.
The scale of the Qin Terracotta Warriors is huge. The three pits that have been excavated have a total area of nearly 20,000 square meters. You can see the Terracotta Warriors in the No. 1 pit and No.3 pit. Only in the second pit can you see the complete Terracotta Warriors without repairing. The Terracotta Warriors in the pit are lined up, the rows are very neat, the manner are dignified and dignified, and it looks like a large number of mounted and foot soldiers led by First Emperor of Qin to fight.
Sincerely hope that these terracotta warriors will get the best protection! In this way, Chinese history can continue to be passed on, and the story can continue to be written! Never ending.
Warm tips:
The Terracotta Army Museum will be closed at 19:00 p.m., so you must catch up early.
When you visit it at hot weather, bring umbrellas to protect you from the sun.
It is best to take a travel guide with you for explanation so that you can have a deeper understanding of history and culture.
The pit No.3 is relatively small and it is behind the No. 1 pit, and don't visit it if possible.
Bring your own drinks, as drinks in the scenic area is super expensive!