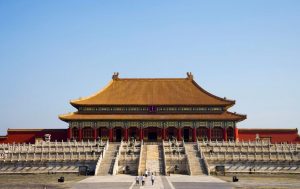 If you like ancient culture, if you like historical architecture, and if you are interested in exploring the unique charm of Beijing, China, The Palace Museum is a great choice for you, which is a famous attraction all over the world.
It is known to all that there are so many people having travel to Beijing every day, and taking a visit to The Palace Museum. Now let's check the The Palace Museum Review to know about how the visitor feel after visiting the Beijing Forbidden City.
For this time visiting Beijing, what I expect the most, except Xiangshan, it is the Forbidden City. The reason why we made the travel there on November is because the beginning of November is a low season, and the tickets are 20RMB cheaper. Because there are so many people going to the Forbidden City, and the volume is limited. We are also set in advance. You can directly enter into the Forbidden City by showing your ID card. It is estimated that there are hundreds of tourist groups in the doorway, which is terrible.
The tourist group and most of the individual passengers left after visiting those palaces on the central axis for about two hours. But since we have come, we must have passed every corner of The Palace Museum. Many of the courtyards of the Forbidden City are organizing exhibitions, cultural relics exhibitions, various utensils, art, etc., and you and your family can visit it separately, because the buildings are symmetrical and you will not get lost. When I transfer to many places, there are not so many people, because there are many steps up and down.
Some of the temples and halls of the Forbidden City have been renovated, such as the Cining Palace, which will be more glamorous. We appreciate the quaint ones as they are more realistic. However, the palaces of the Forbidden City are not all open, and there are two corners that are still closed. The Forbidden City is really big. Of course, the Imperial Garden and Prince Gong Mansion are still incomparable with it. I don't know if the Imperial Garden has been damaged as it's really small, just like the green belt under my family's community. Other palaces, especially the Qianqing Palace and Taihe Palace on the central axis are still very atmospheric and majestic.
The Palace Museum is really a fantastic attraction that should have a visit during your travel in China.