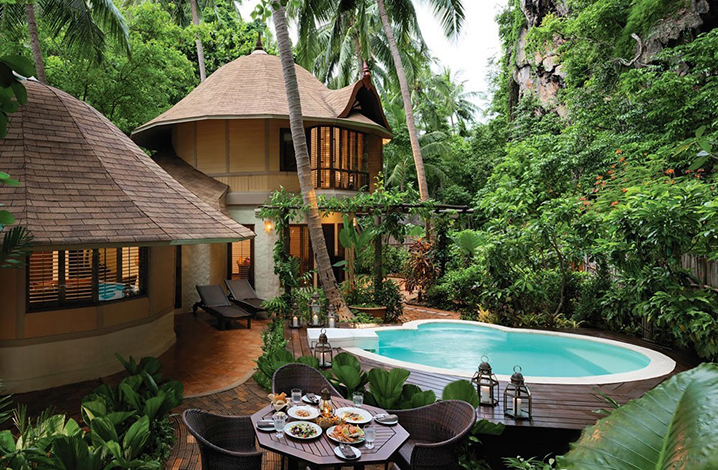 If you want to find a quiet and private high-end hotel with rich scenery for a lazy vacation, there are many hotels to choose from. The Rayavadee Resort in Railay Beach is a very suitable hotel for honeymooners.
Rayavadee Resort is located in a forest on Railay Beach, which is very private. The hotel is surrounded by coconut groves, and it is leaning against the magnificent limestone cliffs and facing the sea. The environment inside the hotel is particularly good, with green bushes everywhere, and the Thais call it the "Princess's Garden".
The hotel room is a small independent villa, also hidden among the coconut trees. Some villas are covered with green vines, like forest huts in fairy tales. Each single-family villa is surrounded by greenery, whose privacy is very good, but also very quiet, so do not worry about being disturbed. The decoration in the room is a bit nostalgic. The most striking thing is the bathtub, which is really big.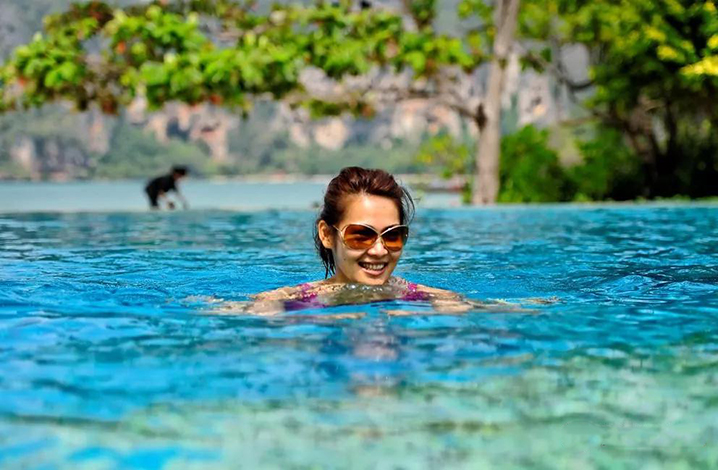 The environment and service of the entire hotel are commendable, and the staff greet guests warmly. The hotel has free kayaks, you can kayak by yourself to stroll around the sea, the scenery is very beautiful. In addition to kayaks, you can also borrow sampans and children's sand dredging tools for free. The hotel also has tennis, rock climbing, Muay Thai, cooking tutorials, and the prices are reasonable. The biggest highlight is the swimming pool. It's nice to take pictures here.
The hotel has 4 restaurants, the most famous one is the cave restaurant, which is in a karst cave surrounded by the rock-climbing place of Railay Beach. In addition to dinner, you can also make an appointment for a wedding. Staying in Rayavadee, in addition to relaxing the hotel, you can also play on the Railay Peninsula.