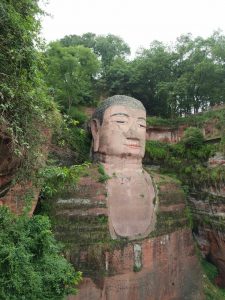 Leshan Giant Buddha is a great place to have a visit! It is recommended to take the early high-speed train, which will take more than an hour to arrive there. And during the peak season, you must book the scenic spot ticket in advance. If you take the train at noon, you will arrive at Leshan at 14:00 o'clock, and after leaving the station, there are free coaches and buses to the scenic spot. There will be a tour guide in the coach who recommends that you hire a tour guide, and you can hire a tour guide together with other visitors to listen to the explanation during the whole process. There is no shopping, no other fees during the trip at Leshan Giant Buddha, and you can understand the consumption. The Oriental Buddha must be visited. The view is very good. The tour guide will recommend you to go to the Emei Mountain by car. It is recommended to take a car by yourself. You will feel very convenient to travel in Emeishan.
Tickets for the Leshan Giant Buddha is 90 Yuan, which can be purchased online, and it is convenient to pick up tickets when there are many people! You don't have to wait in line. And it's easy to go up the mountain. It doesn't take long to get there. You need to line up when you watch the Leshan Giant Buddha 's feet.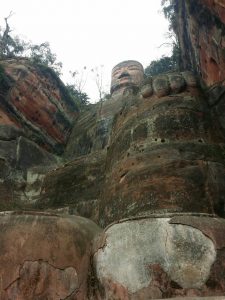 The 71-meter-high Buddha is very worth seeing. There are two ways to watch the Buddha. The first is to take a boat and look at the whole buddha (in fact, it is not very far away, it can be seen clearly, and you won't feel tired.) If you are in a hurry, you can consider taking a boat, each person will take 70 yuan. You can see the whole Buddha from afar. The second is to climb down and climb up by yourself, because if you want to view the buddha by standing in front of the Buddha, you need to climb the small stairs. And you have to climb down from the other side after watching the buddha. So, you can choose the suitable way to view the buddha according to your needs.